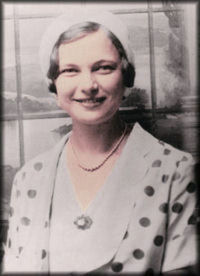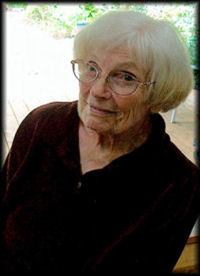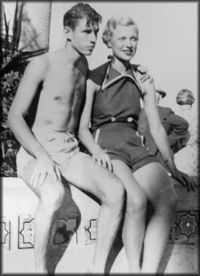 Louise H. Heckendorf
Obituary written by Louise H. Heckendorf
Louise Heckendorf of Eugene died October 22, 2003, of congestive heart failure. She was 90.
She was born August 14, 1913, in Pine Bluff, Arkansas, to Edgar (Ed) and Annabelle Martin Hogan. Ed's parents were Christopher Hogan and Eliza French, his grandmother was Susanna Belcher Hogan, and his grandfather was William Hogan, founder of the town of Hogansville, Georgia. Ed was born May 19, 1881, in Johnson County, Arkansas, he died September 3, 1922, in Santa Ana, California, and he is interred in Melrose Cemetery, Oklahoma City, Oklahoma. Ed was an architect-builder and his death was the result of a job-site accident working on the Santa Ana Hotel. Annabelle's parents were William Martin and Ola Potts Martin. Annabelle died in 1915 at age 26 only four weeks after the birth of Louise's brother, Joseph Martin Hogan, who then died at age seven months.
Louise married Gene Sloan Hall in Santa Ana, California, in 1937. After their divorce in 1965, she married Judge Percy Heckendorf of Santa Barbara, California.
She graduated from the University of California at Santa Barbara, and taught English and Latin in the Santa Barbara secondary schools. After her second husband's death, she moved to Morgan Hill, California, where she wrote program notes and related materials for the South Valley Symphony. She also wrote for San Jose area newspapers.
Heckendorf moved to Eugene in 1987 and wrote for The Senior News for two years. She later opened an Internet-based proofreading and editing business called Your Words or Mine.
Survivors include a son, Martin Hall of Eugene; a daughter, Julie Ann Meads of San Diego; five grandchildren and two great-grandchildren. A daughter, Victoria Krend, died previously. Dear friends Karen Hall and Margaret Squaires are lovingly acknowleged for their steadfast devotion to Louise.
A private family service will be held in San Deigo. Major Family Funeral Home of Springfield is in charge of arrangements.
Memorial contributions may be made to the Alzheimer's Association or American Cancer Society.